How to Optimize Content for SEO and Better Rankings
Ranking within the top 3 search results for quality search queries means the difference between getting traffic and getting close to getting traffic. These coveted top spots can be hard to reach. We are only going to look at how to optimize content for SEO so you can rank at the top of Google.
While we are looking at content for this article but note that there are several other key seach signals that play a role in reaching the top such as backlinks, internal linking, technical SEO, and a pleathora of other factors that can affect search engine placement.
(Webpage Highly Optimized) Content is king
If you have been playing the SEO game for a while you've likely heard the term "content is king". While this is true I believe you need to add the qualifier, "highly optimized". Quality content is essential but if it is not properly optimized it will not rank as well as it could.
How do you optimize your content? There are a lot of different ways and techniques that SEO experts use but we are going to focus on using a few SEO powerhouse tools to reach the "golden zone" of those top 3 placements.
SEO Tools for keyword research and content optimization
There are a ton of SEO tools. You can spend an entire day signing up for and getting lost in SEO tools and data with no clear direction as to what to do next. I am going to help you get past that conundrum quickly. The three tools we are going to look at today are 1. AHREFs (an SEO tool for keyword research), 2. SurferSEO (SEO tool for identifying keyword density and content recomendations specific to the top ten results for a given keyword), 3. Jasper.AI (an AI tool to help you quickly produce content needed to rank.
Keep reading to the end for a bonus tip!
AHREFs
AHREFs is an essential tool for any SEO professional, business owner, marketing professional, or the like who is dabbling with producing web content that can reach the top. Consider this a must have for SEO enablement.
While AHREFs has a ton of features I want to step through a few features that can get you to producing better optimized content quickly.
Step1: Sign up and dive in
After you've given the free trial a spin and have logged in, jump over to the Keywords Explorer tool.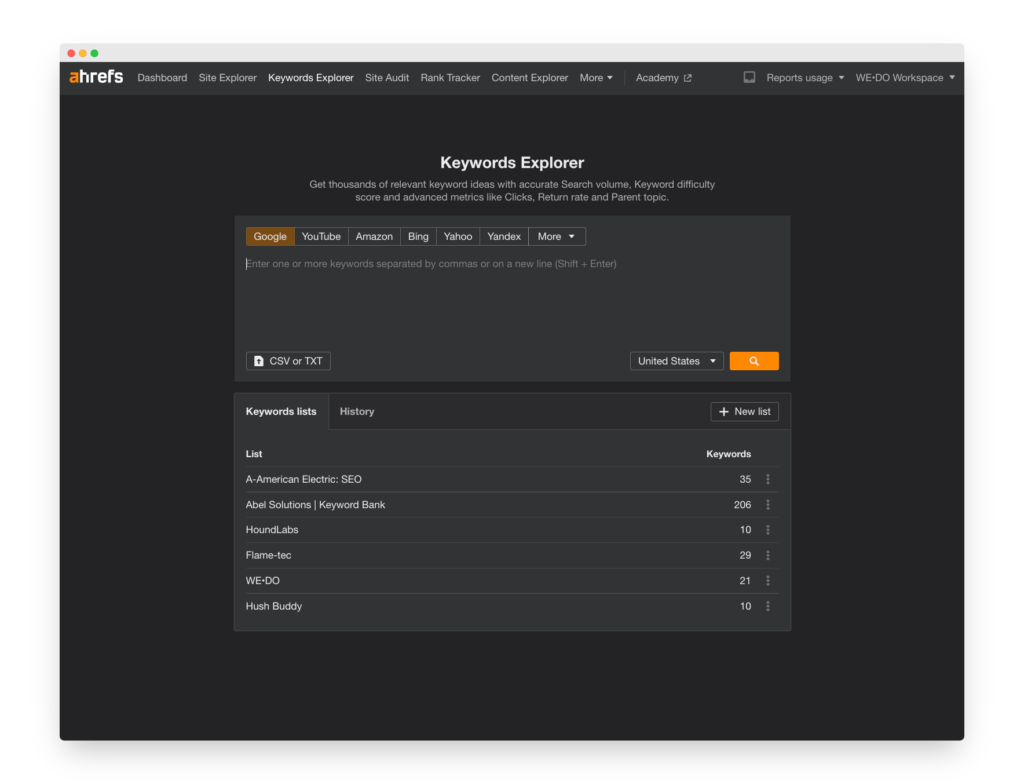 Click the search button without adding any seed keywords to the explorer. I know, this doesn't seem to make sense but just keep going.
This brings up the top searches in the United States with no filter… all 4,456,816,227 keywords!
This also will show you that people in the united states search for porn, social media, amazon, weather, and wordle far too much. Yikes!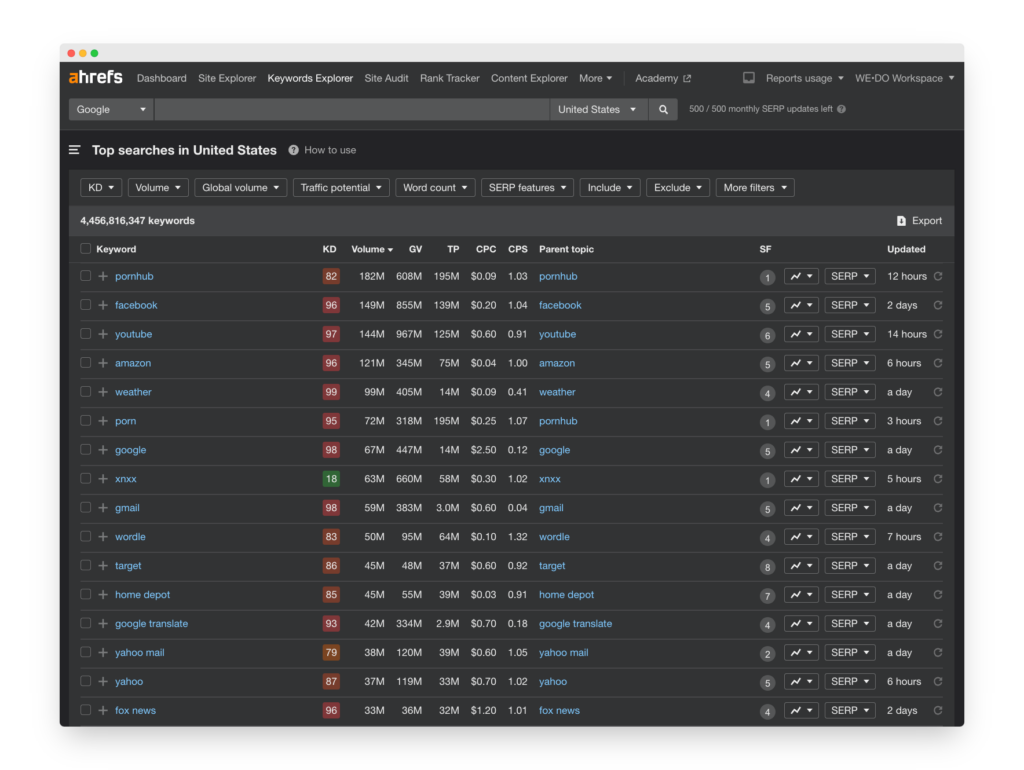 Step 2: Use filters to find the hidden gems.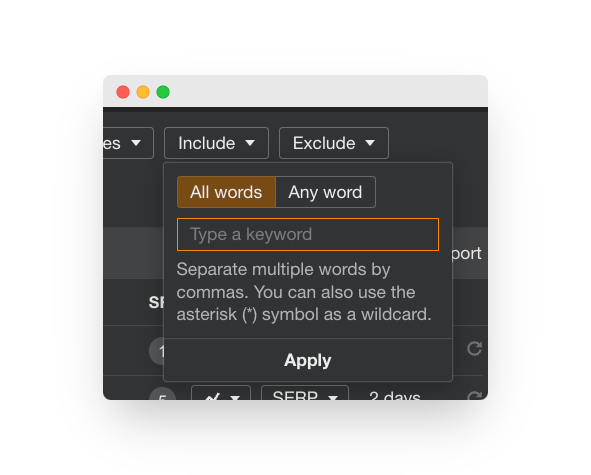 Click on the "Include" button and drop in a few seed words from here. Keep them high level and not too specific. This is just a jump off point and you can whittle them down as you go.
For this example I have entered "SEO, consultant" to find applicable search terms that I can target for a new SEO optimized article.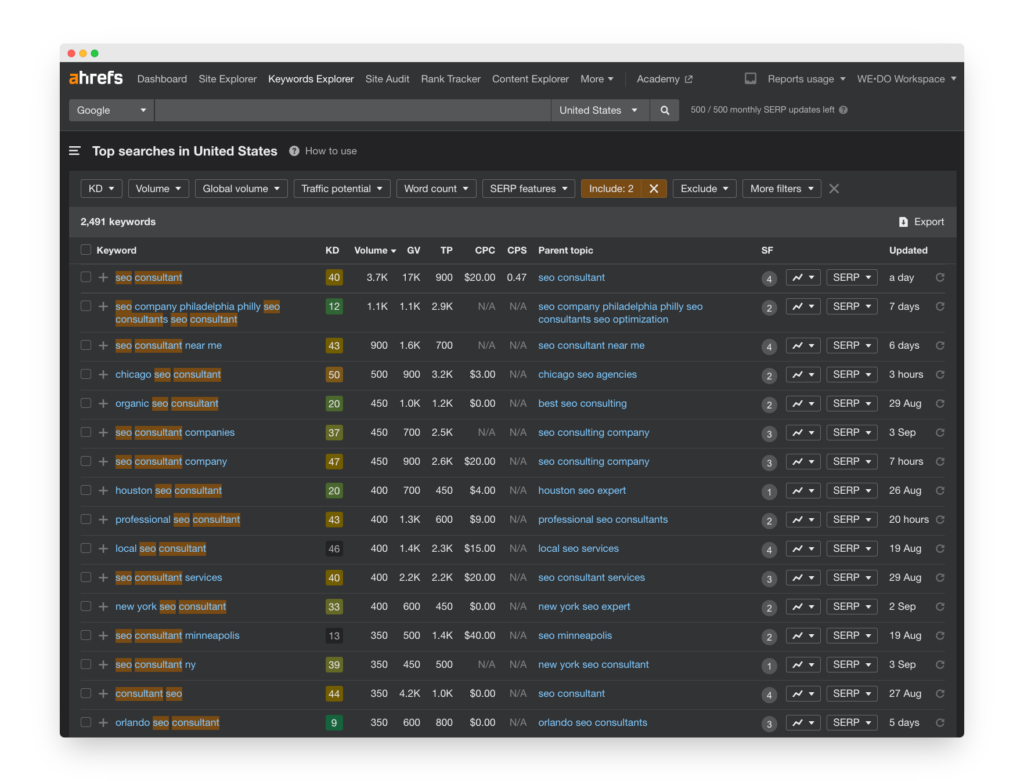 The columns to pay attention to here are the keyword, KD (which stands for Keyword Difficulty), and Volume. By default the table will be sorted based on monthly volume. In this example you can see that the keyword difficulty ranges from 9 – 50. The keyword "orlando seo consultant" has a keyword difficulty of 9 which means that for a new site (espeically in Orlando) you stand a chance at ranking towards the top. If you have a new site and are trying to rank for the keywords "seo consultant company" or "chicago seo consultant" that have keyword difficulties of 47+, you have a slim chance of doing so.
That brings us to the next step.
Step 3: Start at the bottom to reach the top.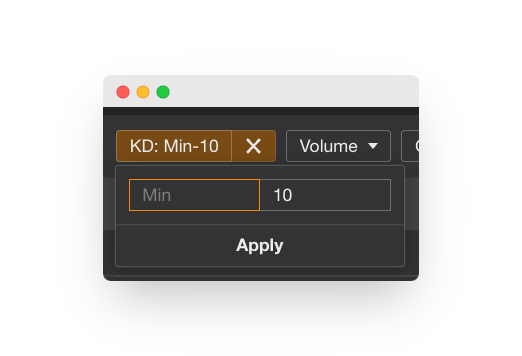 Add a KD (Keyword Difficulty) filter of Max 10. Then hit apply. This will only show you keywords that have a keyword difficulty of 10 or less. When you have a brand new website (or one with little to no SEO power), you will need to start at the bottom and work your way up. Remember, the goal here is to show Google you are a topic authority.
Ok! Now that you have filtered down the keywords to some within reach, look through them to find some that fit with what you offer or what your page is about.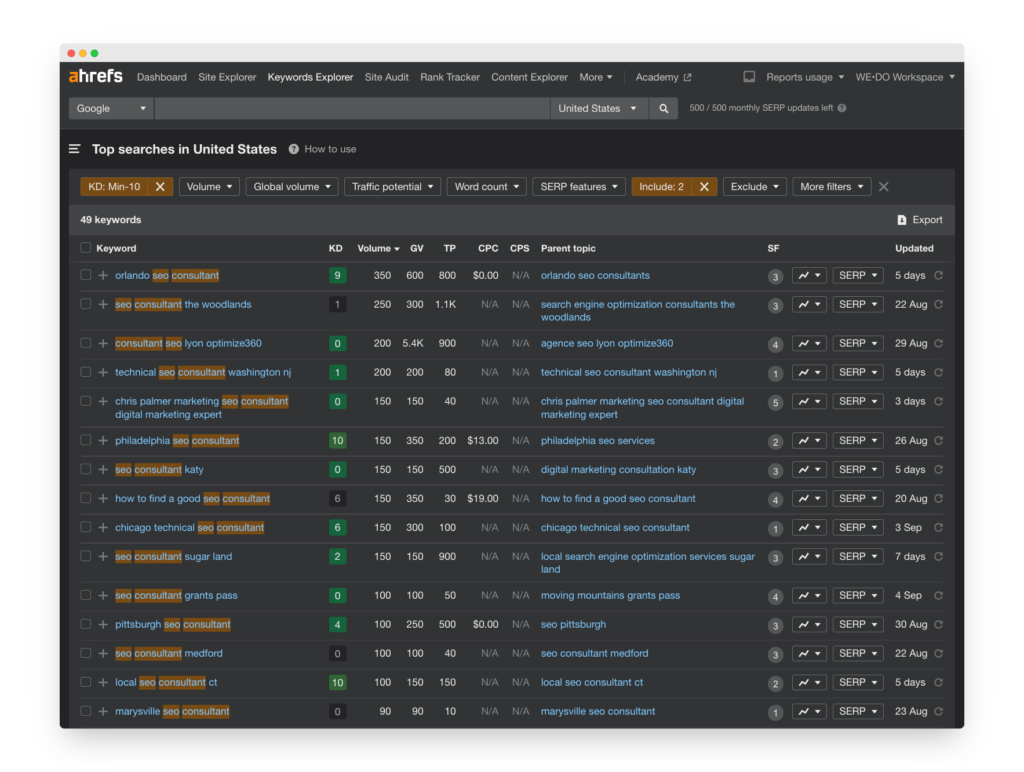 For this example you can see that there are location based keywords as well as specific questions and a variety of other ones. Location based keywords (ex: orlando seo consultant) are often a great place to focus (assuming you have a location specific service offering or location). Questions (ex: How to find a good SEO consultant) are perfect blog post ideas.
Keep in mind that this table is still sorted by volume. Don't be afraid of very low volume keywords. This can be a great way to build up authoirty in the eyes of Google with little competition. You need to crawl before you run.
If your filtering isn't giving you the desired results, feel free to adjust the KD range, volume range, or change the seed keywords.
Step 4: Additional keywords and insights
You've done it. Congrats. You've chosen the best keyword to create content with using keyword data. This already dramatically increases the probability of ranking higher in Google search results.
Now take the winning keyphrase (ex: how to find a good seo consultant) and paste it back into the Keyword Explorer.

This will often provide even more information around your topic. Pay special attention to the "Questions", "Also rank for", and "Also talk about" sections. This will arm you with keywords that will likey come in handy.
As you scroll down you will see the top competitors. Visit each page to see what you are up against. The goal is not to outrank the entire internet. The goal is to outrank these top 10 results.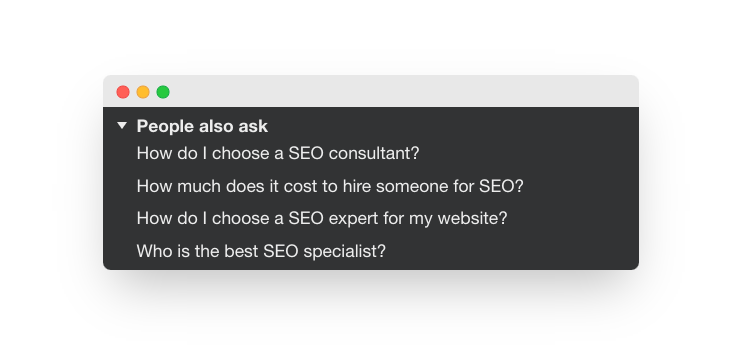 Further down the page look for "People also ask" section. These are often questions that you can answer within the content on your page. This comes straight from Google and shows how Google makes associations for a particular topic.
Step 4: Pick the winner and switch tools.
Thanks AHREFs! You've given us key insights. Now take the seed term and head over to SurferSEO.
SurferSEO
If you don't have an account yet with SurferSEO just get one. You won't be dissappointed.
Step 1: Add your seed term into the content planner.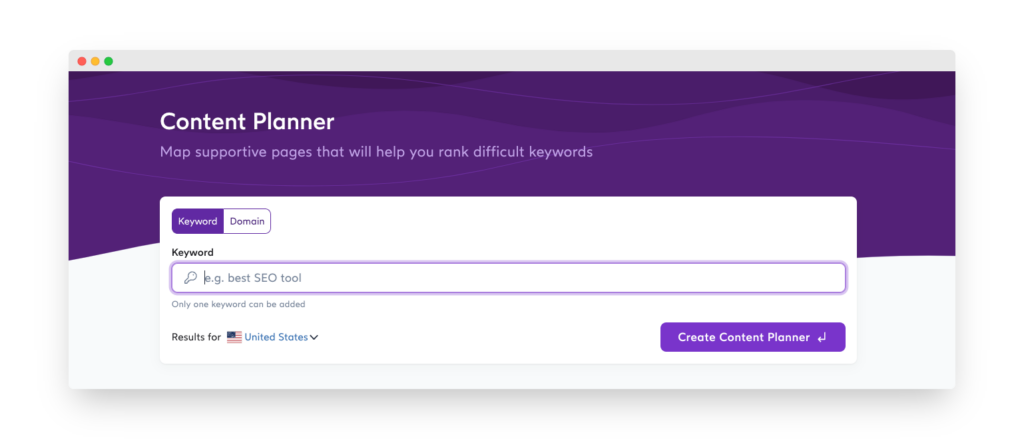 This takes a minute to get set up. Once the content planner is ready to go simply click on the card that hast he green checkmark.

Brace yourself, this is where the real search engine optimization magic happens. Your target keyword will be at the top of the editor and you will see a content creation editor to the left. This is where you can begin adding relevant content and see how the various ranking factors are affected. The main ranking factors that SurferSEO takes into consideration are things like title tags, target keywords used and in what density, alt text for images, and your primary keyword used in the Heading 1 tag (remember to only use one H1 tag).
Step 2: Content optimization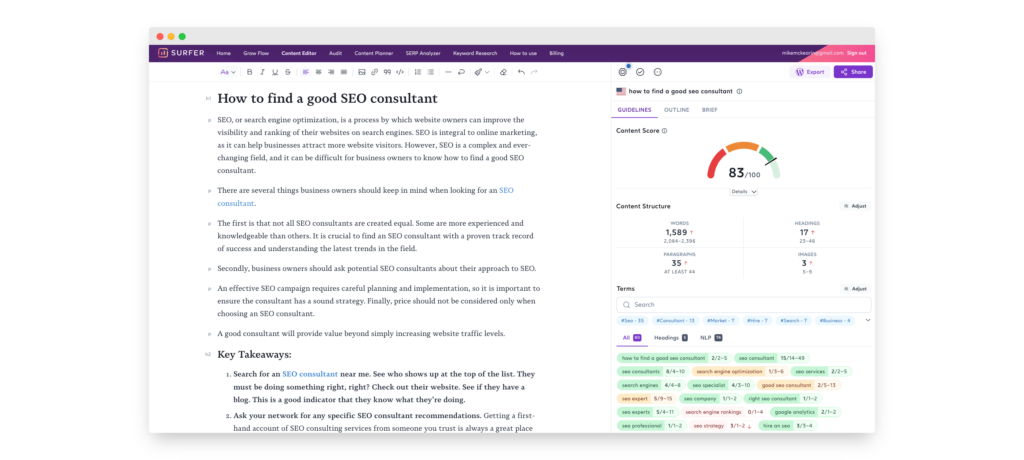 In order to rank a particular page (remember that Google ranks web PAGES not web SITES) at the top of the search engines you must produce high quality content for your target audience. Each web page needs to have relevant keywords without keyword stuffing and consider each of the above on page elements.
Keyword stuffing is when you use the same keyword over and over… and over. This is something that SEO experts have been talking about for so long I think it has scared everyone into using vague language and avoiding the use of keyword variations. The reality is, you have to use the relevant keywords from your keyword research enough that the search engines know what the heck you are talking about.
My workflow when optimizing content is to use SurferSEO to help construct the overall sections I want to discuss in an article, then refine with related keywords in mind.

Your content optimization editor has a few sections worth understanding. On the right hand side of your editor you will see the content score and other search engine optimization content sections. This column provides you with the info you need to understand how many words you need to write, how many headings, paragraphs, images, and keyword density.
Just above the relevant keywords section you should see three tabs (All, Headings, NLP). These will help you understand what keywords to use for your body content and headings. If you click on any of the keywords you will see how the keyword is used in some of your competitor sites. This can be helpful to understand the context of how a keyword is used.
Step 3: Keyword density for search engines
We touched on keyword stuffing and how it is bad practice but there is a certain level of knowing how to use enough keywords in your blog posts to compete with web pages that are at the top. By bouncing back and forth between SurferSEO and AHREFs you can see the search volume for target keywords and how you might use them in your content optimization efforts. It's rare that you are actually keyword stuffing from what I have found.
SurferSEO provides insights into what the search engines are looking at when ranking pages. Remember, this is only one step in the search engine optimization game and should be part of your oerall SEO strategy.
Jasper.ai
Artificial intelligence. This is a hot topic these days amongst content marketing companies and SEO professionals. My stance on using AI to help produce content is to use these tools to produce a rough draft or to help when your cursor just keeps blinking and you feel stuck.
Good quality SEO content is rare. So much content is recycled from one blog to another. Google loves original, helpful, well optimized content. By using AI tools like Jasper.ai you can speed up your content creation efforts from a single title tag or meta description to full blog posts and refreshing existing content.
So how does it work?
Step 1: Sign up for a free account and take it for a spin.
The boss mode is amazing and will save you time in many aspects of your life (pinky swear).
Step 2: Quality content from scratch
I typically start with creating a new document and starting from scratch. I find this is the quickest way to dive right in.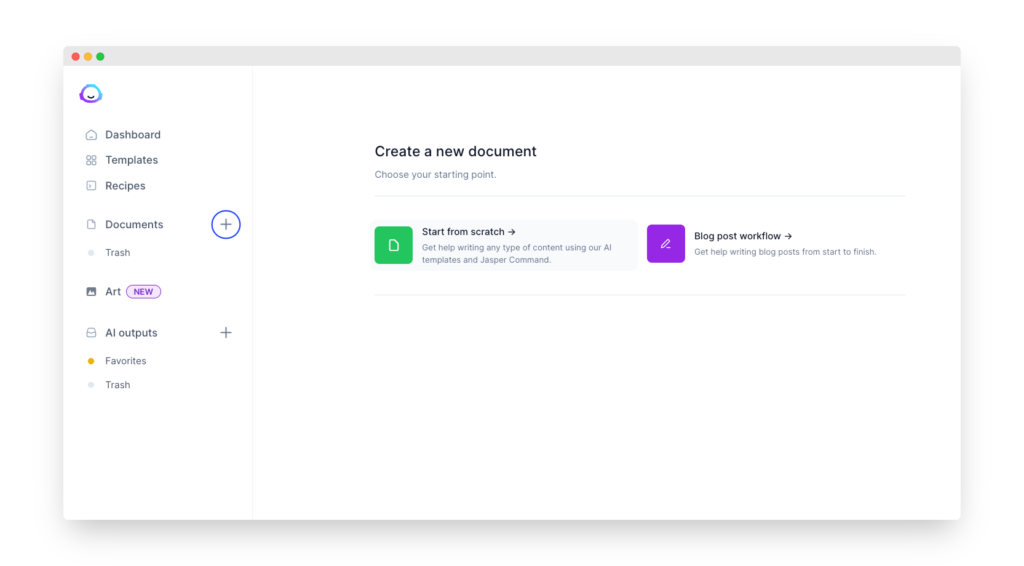 When the editor is open you can start typing away as you would in any other word processing editor or you can start by letting Jasper get some ideas on the page.
You type a command and Jasper reacts to it using artificial intelligence. Now, just to get this straight, this ins't old fashioned 2013 robotic mishmash of text. This is high quality original content at the click of a button.
Here are a few of my favorite commands:
/write a title for a blog post about ____
/write an outline about ____
/list 5 questions people ask about _____
/write 5 bullet points about ____
/use the words [keyphrase here] in a sentence.
/write 5 headlines about _____ topic
Step 3: Write some… let Jasper write more
Blog content can be difficult to go deep in. Many articles (depending on industry or topic) can be upwards of 3000 words. I will often use Jasper to bulk up a section of a blog post. We certainly don't want fluff but to create quality content we need to be thorough.
Bonus tip time!
SurferSEO and Jasper.ai have an integration with each other. This is wildly helpful. You can use Jasper to craft content while SurferSEO reacts to that content in real time. This saves countless hours of time going back and forth between keyword research and content creation.
SurferSEO will change your score depending on how many images you have. I will often just drop in a placeholder image (over and over) until I get the count up to see how many images I likely need. This will keep you moving fast while in content creation mode instead of getting lost down the endless death scrolling of stock photo libraries.
Wrap up.
So now you know how to optimize content for better SEO and quickly produce quality content that stands a solid chance of ranking at the top in the search engines. Don't stop there though. Search engine optimization is about doing ALL THE THINGS. The alchemy happens when you optimize all the content within a blog post, build quality backlinks from reputable sources, and make sure your technical SEO is up to snuff.
Search engine optimization can be time consuing and frustrating but when you put in the effort, you can gain a ton of traffic by reaching the top of organic search results. Content optimization should certainly be part of your on page SEO strategies.
If you need help with your SEO, feel free to reach out!
Add a header to begin generating the table of contents
Mike McKearin is the CEO at WE•DO | SEO Expert | Adventurer | Optimist
Mike has a long history in the world of SEO, studying it and testing various methods for over two decades now. When he's not working on his business or being a dad, Mike loves to go on adventures with his family - they live in the beautiful state of North Carolina and love exploring all that it has to offer. He's an optimist who believes that anything is possible if you set your mind to it, and he wants to help others achieve their dreams through WE•DO
Free WordPress SEO Analysis
Want more traffic to your WordPress website? Get a free WordPress SEO Analysis and see how you can improve your traffic to get more sales online.
*This is a human SEO audit. Once we review your site we will reach out to schedule a time to review with you.