Should You Listen To The New (experimental) Content Ideas Section In Google Search Console?
You may or may not see a new tab in your Google Search Console dashboard called "Content Ideas (experimental)." This just rolled out recently, and I am going to give you my perspective in this article.
The "Content Ideas (experimental)" tab is very new, and it's still figuring out how it works with websites. As a result, some of the suggestions may not be relevant or helpful for your website. At the present moment, I suggest that you do not listen to what this section has to say.
That said, the section could become helpful in the future. If you're curious, I suggest that you take a look at it and see what kind of topics are being suggested for your site. After taking a look, you can decide whether or not the suggestions given make sense for your website and if they're worth implementing.
Let's look at an example
For our marketing company, the content ideas seem to be similar to poorly written AI content. These are most certainly auto-generated (which is to be expected) but are too generic to be helpful.
This may be due to the quantity of other related content on the site.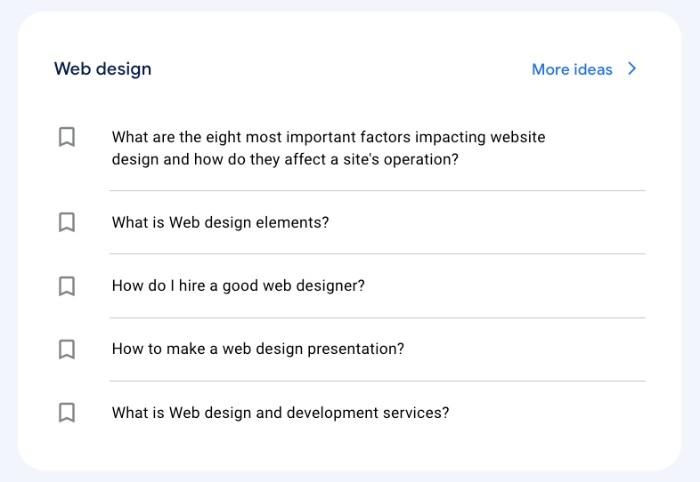 I first thought this was simply pulling in questions from the "People also ask" section, but in this case, it seems different.

It may be that the content is being generated from users. I noticed the following section when I was googling it the other day.
Google also sent out an email stating the following:
Introducing "Content ideas": Get inspiration for new content from Google

"Content ideas" is a new experimental feature that can help you find ideas for new content that are specific to your site. These ideas are based on Google Search queries that might not have good enough results.

Note: This feature is experimental and available only to select properties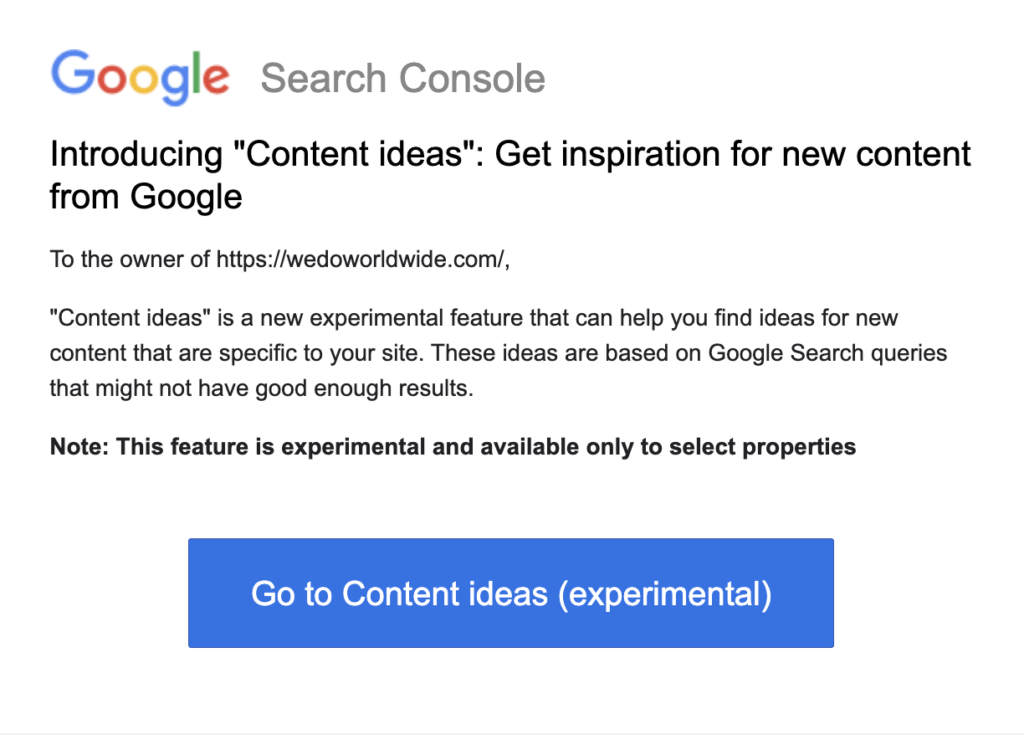 While the above suggestions are not the worst, they certainly are all over the place when it comes to search intent.
Let's look at another example.
These read robotic, like poorly written AI, which is ironic considering Google is trying to eliminate crappy, robotic content.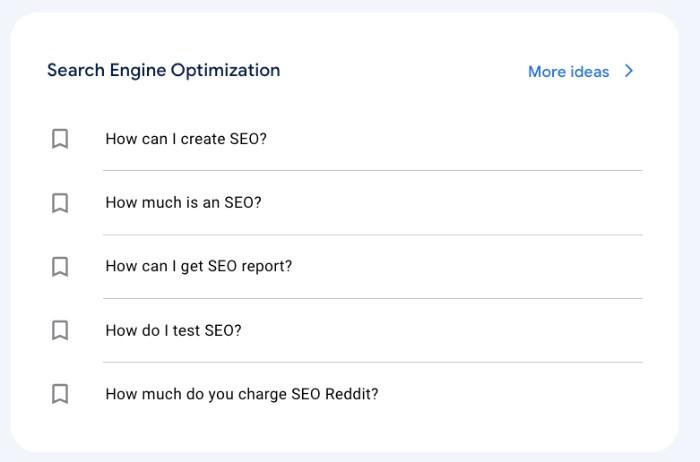 For example, the content ideas for our e-commerce site are a bit more helpful. We have some general suggestions, but they're at least related to our website's products and services.
I think it's too early to tell what value this section will bring. For now, I suggest you take a look and judge yourself. If the suggestions make sense and are relevant to your website, then you should consider implementing them in your content strategy.
It may be worth keeping an eye on this section over time as it continues to evolve. Hopefully, Google will eventually refine it so that the content ideas suggested are more relevant and useful. Be mindful of what you choose to take away from this section.
In summary, the Content Ideas (experimental) tab in Google Search Console may have some valuable suggestions for your website, but it is still too early to tell. It's worth taking a look and seeing if any of them make sense for your website. However, it may be wise to wait until Google has had time to refine this section before implementing any of the ideas suggested.
Add a header to begin generating the table of contents
Mike McKearin is the CEO at WE•DO | SEO Expert | Adventurer | Optimist
Mike has a long history in the world of SEO, studying it and testing various methods for over two decades now. When he's not working on his business or being a dad, Mike loves to go on adventures with his family - they live in the beautiful state of North Carolina and love exploring all that it has to offer. He's an optimist who believes that anything is possible if you set your mind to it, and he wants to help others achieve their dreams through WE•DO
Free WordPress SEO Analysis
Want more traffic to your WordPress website? Get a free WordPress SEO Analysis and see how you can improve your traffic to get more sales online.
*This is a human SEO audit. Once we review your site we will reach out to schedule a time to review with you.