SEO Question Answered: What are the consequences of removing indexed pages from Google?
Removing indexed pages from Google could be a major mistake for any website, although there are many things to consider.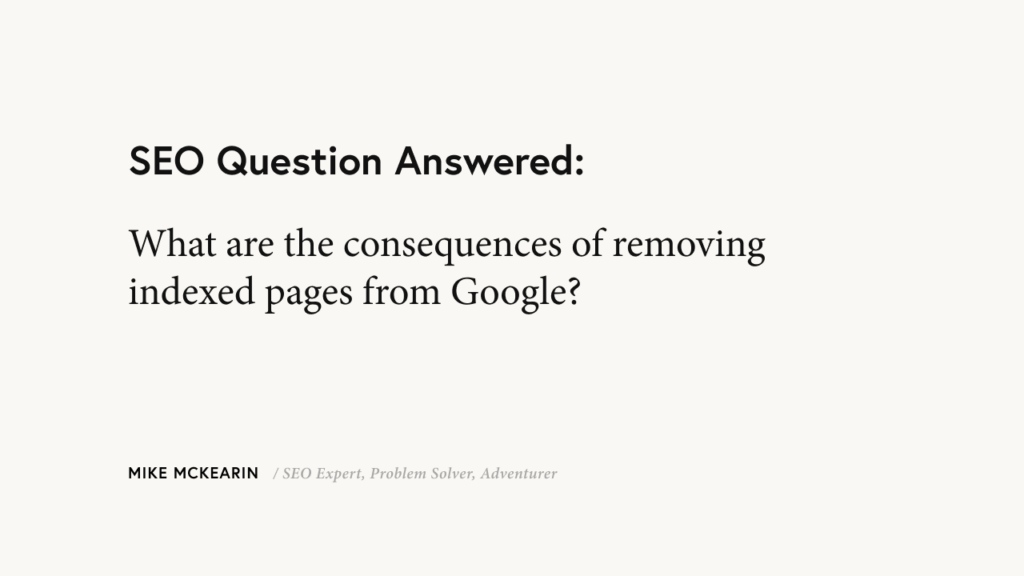 First and foremost, it's crucial to understand that Google's index is the foundation of the search engine's ability to deliver relevant results to users.
By indexing a website's pages, Google is able to understand the content and structure of the site, and use that information to determine its relevance for specific search queries.
So, if a website removes indexed pages, it's essentially taking those pages out of the search engine's reach.
That means users will no longer be able to find those pages through search results, resulting in a significant drop in organic traffic. And since organic traffic is often the lifeblood of a website's success, that's a problem.
But it's not just the loss of traffic that's an issue. Removing indexed pages can also harm a website's overall SEO, as it affects the link equity and relevance signals that contribute to higher search rankings.
For example, if a page was previously linked to by other high-authority websites, removing that page from the index can result in the loss of valuable backlinks.
This can, in turn, negatively impact the website's ability to rank well for relevant keywords, which can hurt its overall visibility and success in search.
So when does it make sense to remove indexed pages from Google?
There are several situations in which it may make sense to remove indexed pages from Google:
Duplicate Content: If a website has multiple pages with similar or identical content, it may be necessary to remove some of the duplicates from the index to avoid confusion and penalties from search engines.
Outdated Content: If a page is no longer relevant or has become outdated, it may make sense to remove it from the index so that users aren't directed to information that is no longer accurate.
Broken or Error Pages: If a page returns a 404 error or is otherwise broken, it may make sense to remove it from the index to improve the user experience and avoid potentially negative SEO impacts.
Merging or Redirecting Pages: If a website has undergone restructuring or content merging, it may make sense to remove the old pages from the index and redirect users to the new, consolidated pages.
Off-Topic Content: If a website has pages that are not aligned with its core topics or mission, it may make sense to remove them from the index. This can help improve the overall relevance and quality of the website for both users and search engines, and increase the chances of ranking well for its target keywords.
In all of these cases, it's important to properly redirect the removed pages to relevant and functional pages on the website, or to return a 410 status code to signal to search engines that the content has been intentionally removed.
It's also important to consider the potential consequences of removing indexed pages, such as loss of traffic and backlinks, and to weigh these against the benefits of the change.
In many cases, it may make more sense to keep the pages in the index and instead update the content to improve relevance and accuracy.
In short, removing indexed pages from Google should not be taken lightly. It can have serious consequences for a website's search engine visibility, traffic, and overall SEO, and it should only be done after careful consideration and consultation with an SEO expert.
Add a header to begin generating the table of contents
Mike McKearin is the CEO at WE•DO | SEO Expert | Adventurer | Optimist
Mike has a long history in the world of SEO, studying it and testing various methods for over two decades now. When he's not working on his business or being a dad, Mike loves to go on adventures with his family - they live in the beautiful state of North Carolina and love exploring all that it has to offer. He's an optimist who believes that anything is possible if you set your mind to it, and he wants to help others achieve their dreams through WE•DO
Free WordPress SEO Analysis
Want more traffic to your WordPress website? Get a free WordPress SEO Analysis and see how you can improve your traffic to get more sales online.
*This is a human SEO audit. Once we review your site we will reach out to schedule a time to review with you.